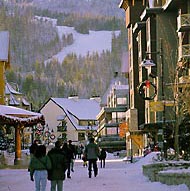 We understand how precious your vacation time is.
Peak to Creek's goal is to facilitate the ultimate Whistler experience for our guests. Our services are complimentary so let us put our extensive local knowledge and contacts to work for you.
From the moment you arrive in Vancouver until the moment you leave we can take care of all the details.
Arrive in the resort to find your vacation home warm and welcoming; your groceries are delivered, the wine is chilling in the fridge, your lift tickets have been delivered, the kids activities are booked and all you have to do is decide whether to ski Whistler or Blackcomb the next day. This is just a taste of what we do!
Please take the time to browse through our site to see the incredible range of what Whistler and Peak to Creek have to offer. If you are looking for a property to rent we can find it for you. If you are seeking the ultimate backcountry experience we can recommend anything first hand. If you just want to be pampered at one of Whistler's many spas we will find you exactly what you want.
We are Whistler's cognoscenti
Send us an email and let us know what we can do for you