TRANSPORTATION TO WHISTLER
Whistler is a 2.5 hour drive from Vancouver International Airport.
Listed below are your many transportation options.
Let us do the work for you.
Send us your arrival/departure details, numbers and time constraints
and we will cost out your options and email them to you.
Many carriers offer our guests a discounted fare.
shirley@peaktocreekwhistlervacations.com
All prices below are in Canadian $'s
and do not include 7% Goods & Service Tax (GST)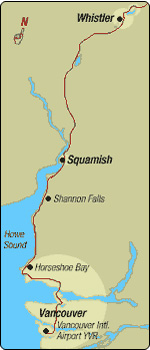 Scheduled HeliJet Service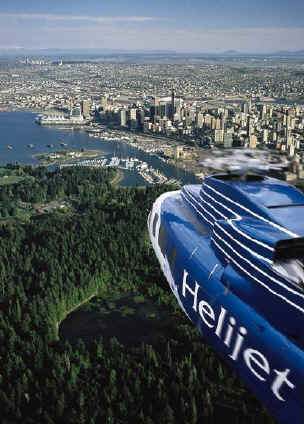 Helijet International starts daily scheduled service to Whistler on November 23rd, 2002.
S76 Twin Engine helicopters can seat 12 passengers/flight.
Daylight hours only.
Alternate transportation is automatically arranged for canceled flights.
Prices: Around $150 one way. To be confirmed by mid-October.
RENTAL CARS

Wide range of 4x4 (recommended) vehicles offered to our guests at discounted rates.
Consider our one-way fares to have a vehicle in Whistler for your first 24 hours to do shopping.
LIMOUSINE

Driver will meet your plane. Immediate airport departure.
Limousine Service operates year round and offers different sizes and styles of vehicles.
3-passenger sedans, which seat maximum of 3 in the back.
Prices: $250 - $300 (Canadian) each way.
6-passenger Lincoln limousines seat a maximum of six in the back
Prices: $300 - $325 each way
10-passenger Lincoln limousines, which actually only hold 7 with full ski gear
Prices: $425.00 each way.
10-passenger vans, ski/snowboard box equipped. Capacity of ten passengers in forward facing bench seats.
Prices: $325 - $350 each way
Our mini bus operated by Star Coach & Limousine Service Ltd. holds max of 22 passengers with luggage
Costs $500 each way.
All limousines are the newest in the industry and come equipped for your comfort with complimentary ice, glasses, a video movie, ski racks and even a child seat up to 40 lbs. if required.
The limousines also have leather interiors, privacy dividers, intercom systems, tinted windows, cellular phones, AM/FM CD stereos, colour televisions and VHS video players.
AIRPORT SHUTTLE

The driver will meet your plane. Airport departure guaranteed within one hour of arrival. You will be dropped off at your Whistler residence. Ideal for small groups or groups with staggered arrival times.
Door To Door shared ride commentary tour shuttle service 24 hours a day between the Vancouver International Airport.
The price for the shuttle is $63 per person, each way.
Children under 11 years of age travel for $35 each way.
VANCOUVER STOP-OVERS

Due to awkward flight arrival or departure times or check in/out times at your Whistler accommodations, many of our guests choose to spend time in Vancouver on one or both ends of their trip. We can make hotel arrangements for overnight or just for the day.
We will coordinate airport transportation and suggest some of our favourite things to do and places to eat while in the city.
All prices are listed in Canadian Dollars