SNOWMOBILING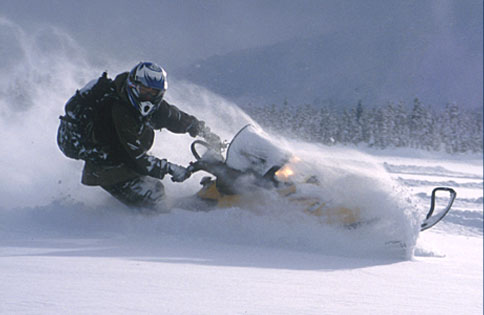 To ensure a really great snowmobiling experience we recommend to our guests
WHISTLER FREERIDE ADVENTURES.
They are an exclusive snowmobiling company that specializes in personalized and high quality snowmobile adventures. The business is geared towards guiding clientele that want to ride high end snowmobiles with a private guide. Their snowmobile adventures are based out of the Calcheck area, just 14 km South of Whistler. There's no bumper to bumper choking on blue smoke riding with them!
2 HOUR SNOWMOBILE ADVENTURE:
With your private guide you'll ride groomed trails, play in powder bowls, and enjoy spectacular views of the glaciers and rugged mountain peaks in Whistler's Sea to Sky Corridor.
Pricing: Single Rider - $175.00 pp Doubling - $99.00 pp
Times: Morning Ride - 8:30 am pickup at your hotel Afternoon Ride - 12:30 pm pick up at your hotel
3 HOUR SNOWMOBILE ADVENTURE
Spend a morning or afternoon playing in powder bowls and cruising around on groomed trails with your private guide. You'll be served delicious hot hearty soup, homemade bread, refreshments and decadent pastries.
Pricing: Single Rider - $245.00 pp Doubling - $165.00 pp
Times: Morning Ride - 8:30 am pickup at your hotel Afternoon Ride - 12:30 pm pick up at your hotel
FULL DAY TOURS
6 hours of powder heaven! Includes lunch.
Pricing: singles only - $375.00
All tours include top of the line insulated full-face helmets, goggles and boots.
CLICK HERE FOR WHISTLER FREERIDE ADVENTURE'S PHOTO GALLERY
BEGINNER AND FAMILY TOURS
We recommend COUGAR MOUNTAIN ADVENTURES. They have specially designed the Learn to Ride and Family tour programs to meet the needs of first time riders and families with small children. These programs have been developed to introduce you to the sport of snowmobiling in a safe, exciting and informative environment. Once you have completed the Learn to Ride training, your guide will lead you on a journey to magnificent forests, breathtaking views, and the thrill of riding frozen lakes. The two-hour tour includes a drink and snack. The three-hour tour stops at the cozy Trapper's Cabin for a hearty Canadian lunch.
Tour length double single departures
2 Hour Tours: $89 double pp/ $119 single : $119 Departures: 10:30am, 12pm, 3pm
3 Hour Tours: $119double pp/ $159 singles: Departures: 1pm, 3:30pm, 4:30pm
* Kids discount: 12 & under, 50% off doubling rates
JUST FOR KIDS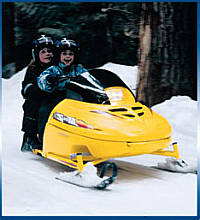 Family tours are run separately from the Learn to Ride tours, and have private guides to conduct each tour. Small children ride in safe, comfortable sleighs, while Mom and Dad ride their own snowmobile. At the cabin, the children can learn to ride on the Ski-Doo "Mini Z". This an amazing photo opportunity that you will love to have!
2 Hour Tour: $89 double pp/ $119 single Departures: 10:30am, 12pm, 3pm
3 Hour Tour: $119double pp/ $159 single: Departures: 1pm, 3:30pm, 4:30pm
* Kids discount: 12 & under, 50% off doubling rat