SNOW SHOE TOURS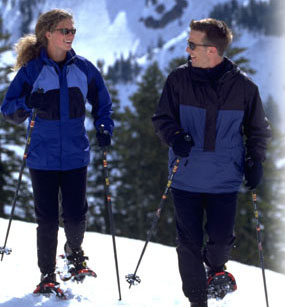 NATURAL MYSTIC
Tour length: 1.5hrs $55
This 1.5 hour tour departs the Whistler Village every day at 10:00am, 12:00 pm and 2:00pm.
This is an introductory tour perfect for first timers with an emphasis on nature and culture. Birdhouses are abundant along scenic trails where you'll get a chance to see and hand feed wild birds. You will stop along the way to enjoy some hot apple cider and a trail treat.
WINTER WONDERLAND
Tour length: 2.5hrs $65
This 2.5 hour scenic descent departs daily at 9:00am and 1:00 pm from the Whistler Village.
On this moderate tour, experience the solitude of freshly fallen snow in the old growth forests of Whistler Mountain and enjoy the views of the Whistler Valley below. You will discover wild birds and animal tracks as we descend and will stop for a hot apple cider and trail treat along the way.
EARLY BIRD MORNING ASCENT
Tour length: 1.5hrs $55
This tour departs the Whistler Village daily at 7:00 am.
For those looking for a great workout come and join us on our morning ascent of Whistler Mountain. You will meet in the morning for an energy bar, smoothies, coffee or tea and then climb the freshly groomed runs of Whistler Mountain. The tour will end at Olympic Station where you can ride the gondola back to the village or up to the Roundhouse for a "First Tracks Breakfast". There is a quiet and majestic peacefulness during this morning tour that you have to experience to believe.
TOUR DU JOUR
Tour length: 3hrs $85
This 3 hour tour begins at 11:00 am and includes a stop for a hearty pack lunch and beverage.
Every day is a new adventure! Trek through old growth forests, around glacier lakes or to unique hideaways on this moderate to challenging tour. Each tour is customized to the groupÕs abilities and all participants should be physically fit in order to enjoy this tour.
BACKCOUNTRY HELI ADVENTURES
For those looking for the ultimate backcountry snowshoeing adventure this tour is for you. You will be guided by a professional mountain guide on this half day journey and will enjoy a hearty pack lunch amidst the most spectacular scenery in the world. Prices, tour times and group sizes will vary. Let us help you customize your trip.
EVENING FONDUE TOUR
6:00pm departure - 3hrs $109
This unforgettable evening snowshoe walk begins at 6:00 pm around the shores of Green Lake and ends at The Den at Nicklaus North Restaurant. There you will gather around the fireplace for a hot spiced wine followed by a gourmet 3 course meal including a salad, cheese fondue, meat fondue, dessert, coffee and tea. This tour is great for couples or groups looking for that unique dinner adventure.
RENTALS
If you would prefer to go out on your own come and rent a pair of snowshoes. Atlas aluminum snowshoes and a waterproof map provided so you can design your own adventure.Price: $15/day
JUST FOR KIDS
6:00pm departure 3hrs $55
Sorry folks, this one is for kids only. This 3 hour adventure starts in the village at 6:00 pm where the kids will explore trails and play snowshoe games with knowledgeable and responsible guides. Once theyhave worked up an appetite they will go for pizza and pop. This tour is recommended for kids between the ages of 6-15.